August of last year I had one of my most memorable dives which resulted in one of my favorite photos of all time…
The Drunk Octopus.
Recently I was asked what the back story was on it. Well here you go! 😀
August 1, 2011…
Kimo and I head out for an evening dive at the Marine Room in La Jolla. 1-2 footers with occasional larger sets. The topside conditions look beautiful…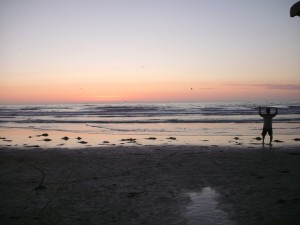 The dive plan was to head to the amphitheater, one of my favorite spots, because of the sheer drop of the wall to 120 feet deep. It never disappoints! Viz in the shallows was a hazy 10 feet, but it opened up to 15 feet at the canyon. Around 112 feet deep, I spot a beer can. Like most divers, I like to help try and keep our favorite underwater playground clean, so I will pick up trash when I see it on dives. This dive was no exception. But something looked funny about it….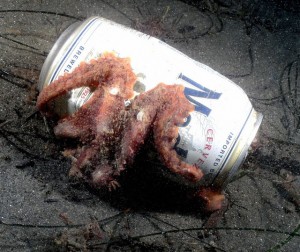 I go down to pick it up and some debris comes flying off. I turn the can over…Well hello there!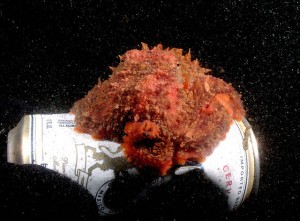 Ok you are pretty stinkin' cute, but hand over the beer can, I'm helping save the ocean one piece of trash at a time. I can't leave it here no matter how big your drinking problem is.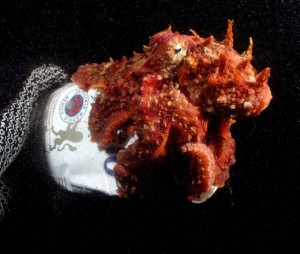 No seriously, let go.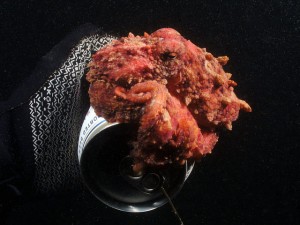 The first step is admitting you have a problem!!!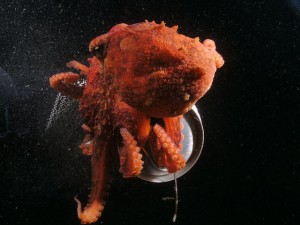 Oh it's ON buddy!! GIMMIE THE BEER CAN!!!!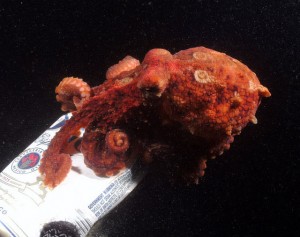 Ok major  intervention time. Let me show you this awesome wall where there are tons of safe places to play and hide and make new friends. Friends that want you OFF the sauce.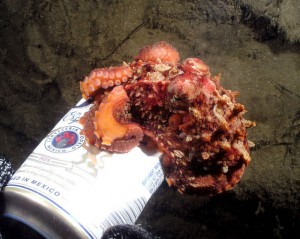 SUCCESS!! Looks like this octopus has finally taken his first steps to sobriety!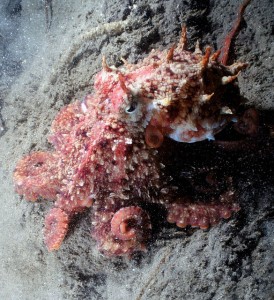 And here is the famous Drunk Octopus photo: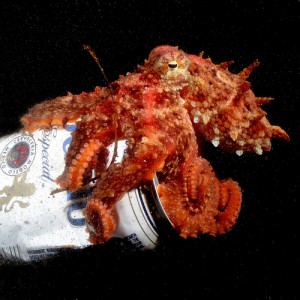 © 2012 Underwater Paparazzi
Happy Diving!