So its taken me a bit to get this post surgery blog up. Sorry about that, it was just too hard to be on the computer. Not to fear, everything is healing as it should and I'm doing great! I chose NVISION in La Jolla and Dr. Parikh as my surgeon because I felt the most comfortable with him. And of the the 4 friends I asked for referrals, 3 of them used Dr Parikh coincidentally. However, I did end up deciding to change my surgery plan last minute, which threw everything I had prepared for out the window. I had planned for traditional LASIK, which a machine basically cuts a flap on your eye the laser fixes the cornea then puts the flap back in place. You basically see clearly immediately and are back to normal activities the next day. The doctor told me I was a border line patient for LASIK vs PRK. He said I could do LASIK but he wouldn't be able to get my vision to 20/20. My corneas were too thin. BUT it would still be clearer than anything I was used to. And then if I wanted, in 6 months I could do a touch up and sharpen thing up with a PRK procedure. At the time I wanted LASIK. I had a Hammerhead dive meet up meeting to run the day after surgery and a Project A.W.A.R.E event I had already volunteered for on Saturday. Immediate results and next day recovery was the only thing I was thinking about.
Thursday, February 2nd. Day of surgery.
Dr. Parikh sat down with me one last time to make sure I understood my choices. And that's when I realized I needed to slow down and forget about the activities and really think about what was best for me. And why the heck was I paying all this money to not have my vision 100%? And why would I want to plan to come back for a touch up in 6 months if I really didn't have to? I changed my mind to PRK. PRK basically removes the top layer of my eye and the laser reshapes the cornea. I know, ew gross. haha Then they have to put a bandage over the eye which is like a clear contact lens to protect it for 4-7 days. Its like waiting for an open wound to heal. Vision slowly gets better over a weeks time and even clearer over a months time. See why I originally wanted LASIK instead? Instant gratification! But not all things should be rushed and I felt my vision was one of those things. I'm lucky enough to live in a time where this is even possible, I might as well do it right the first time on whats best for my eye situation. I think what I really appreciated the most about this place was that Dr. Parikh and his associates really took their time with me to make sure I made a good decision. Other places I went to just talked LASIK with me because it's easier for them.
So after the pep talk I met the team that would be working on my eyes. They gave me meds to relax me since I would be awake during surgery. It only took 10 minutes for me to feel loopy and start giggling. It has that effect on me, I don't know why. LOL They brought me into the surgery room and even gave me a blanket since it was cool in there. The doctors were GREAT. They talked me through the whole process, explaining what they were doing and telling me how great it was going the whole time. All I had to do was stare at a green light. Piece of cake. Didn't feel a thing from the numbing drops they put in your eyes. The smell bothered me but they said it was a smell from the gas of the laser machine…. I'm still not sure about that but I don't want to think about it too much. LOL Ten minutes later I was done! They helped me up and I got a teaser of better vision. PRK heals more slowly than LASIK and I knew that but it was still clearer than my vision had been before without my contacts or coke bottle glasses!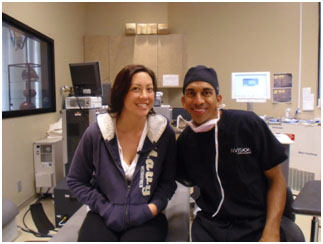 in the OR with Dr. Parikh right after they finished my surgery!
My vision is getting better every day, but I'm not going to sugar coat the first few days. The blurriness sucks, and I did get headaches. The eye stickiness from the drops grosses me out and I constantly felt like there is a foreign object in my eye (that lens bandage). The light sensitivity was really annoying but at least I look cool wearing my sunglasses indoors. 😀
The first day after I woke up from my 4 hour nap after surgery, my eyes were watering like crazy and it freaked me out. I also felt like I got punched in both eyes. Well, that might be a tad dramatic, but they did feel really heavy. 😀 But the staff was great, and there is an on call doctor at all hours to answer questions from crazy patients like me. I had these really sexy after surgery goggles I have to wear when I sleep to make sure I don't rub my eyes.
The rest of the evening I was a bit loopy from the meds much to the boyfriend and best friend's entertainment. The best friend even bought me pirate eye patches. I know you're jealous. 😀
The next two days I was ok. My vision had improved and I was going on with life as normal except no driving at night. Then day 4 happened…
I woke up my eyes not feeling so hot. I put my drops in and got ready for work. I went outside and OW!! The light sensitivity was INTENSE. And my eyes were throbbing. I sat in my drivers seat for a minute, then shut off the car went inside and burst into tears. I know, totally mature, but I promised I'd give the full nitty gritty details of my experience, as embarrassing as it may be. The pain was so intense I didn't know what to do and it scared me. My boyfriend called my doctor for me and I went to see one of his associates immediately. Turns out I let my eyes get too dry and I disrupted the cell growth while I was sleeping. Sometimes I sleep without my eyes fully closed and this contributed to it. I took the day off work and kept hydrating my eyes and kept my eyes closed for the majority of the day.
Tuesday February 7th. Follow-up appointment. (day 5)
My eyes felt tons better today after the previous days freak out. They checked my eyes and they weren't quite healed yet, so they replaced the bandages for two more days. Other than that, its really cool to be able to read street signs and stuff now and I might be annoying a lot of people by reading signs out loud but I don't care. The little things make me happy! I still get a little "halo" effect in my vision but true to the doctor's words, its progressively getting better. Its nice to be able to read a computer screen too now. I felt so cut off from the world! Now if this healing can just hurry up so I can get back in the water!!! Another update coming soon!
** As a reminder, this is my personal experience. Everyone heals in different ways and should have full consultations with their doctors before making an educated decision based on their personal situation and health.