La Paz, Mexico – Club Cantamar
Dive #346 – 355
Annual trip to La Paz, Mexico with House of Scuba! And again, the diving was incredible. 90 degree air temps, 84 degree water temps, 60-100 ft visibility. Three days of straight gorgeous warm water diving!
Day 1: Whale Island, Fang Ming Wreck, & Swanee's Reef
Whale Island was an easy dive spot to get reacquainted with the warm, super salty Sea of Cortez. But it did have some pretty swim throughs filled with red gorgonians! The Fang Ming Wreck is always a favorite. I have a love for wrecks and the mysteries they can hold. This wreck had a ton of large entry points cut for easy exploration within. (I'm sorry I can't use the word "penetration" without giggling under my breath. :D) And of course Swanee's Reef. The epic dive site home to the largest swarms of fish schools I have ever seen!
Day 2: Sea Lion Colony x2, & Salvatierra Wreck
La Paz is famous for the Sea Lion Colony. This is the season in particular that the pups are super playful. We also dove the Salvatierra Wreck. We had a ripping current on this dive, and some people called the dive early. Viz was cloudy here too. But my favorite moment of this dive is when my dive buddy Brenna, with a whopping 9 dives under her belt, took to the current dive like a champ. She looked at me, struck a superman pose with the current and away we went. She still talks about how fun that dive was. Ladies and gentlemen, another scuba addict has been born!
Night Dive:
Night diving is one of my personal favorite things to do so I'm always excited to do them in tropical places. If you have the option while in La Paz, definitely go. Some weird stuff comes out at night! Highlight of this dive, a gorgeous orange seahorse!!! Insert the famous seahorse dance here!
Day 3: La Reyna x 2, & Swanee's Reef
I love both of these sites! La Reyna just has so many options. A great rocky bottom topography with lots places to explore! Some people think they don't need a dive light in such clear water, but I always encourage people to take one! You never know what might be hiding in a crack of a rock or under a ledge! There is also a wreck here too and if the current is cooperating, it's a lot of fun to play on. La Reyna is also the home to the most green moray eels (and other eels) that I've ever see living in one dive site! And good old Swanee's. HAD to do it again. And the dive was epic. Engulfed in fish. Absolutely breathtaking!
Day 4: WHALE SHARKS!!
We couldn't dive our last day since we were getting on a flight… but we can snorkel!! We have the option every year of looking for whale sharks. It's not guaranteed, and I remember last year all we had was a nice morning boat ride. But I will go on this trek every year for the pure glimmer of hope that I might be able to get to swim with one. They are just beautiful creatures. And even though I only got two photos before it out swam me, it still was AWESOME. And yes I plan on doing it again next year. 😀
I'd LOVE to post some of the topside photos I took on my iPhone of the beautiful scenery, but my phone decided to continue its vacation without me in Mexico. If It ever comes home, I'll be sure to update this post. 😀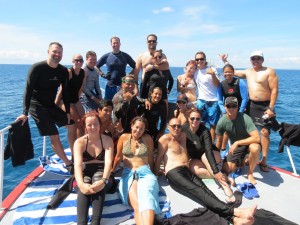 Photo Courtesy of Brenna E.