Bonaire – Calabas Reef
I was lucky enough to travel to Bonaire for a week of diving with House of Scuba. And it was AMAZING!! For those of you curious, Bonaire is a small island just 24 miles long and 7 miles wide. It is a Caribbean island that forms a special municipality of the Netherlands. There is also Klein Bonaire, ("Little Bonaire") which is an uninhabited little islet of the west coast of the larger island and a hot spot for diving. Bonaire also has earned a reputation for being one of the most environmentally conscious islands in the Caribbean! It's no wonder that their protected marine park is worldly known as a divers paradise!
SAN -> ATL – It was a FULL red eye flight to Atlanta. I've never squirmed so much in my life in that stupid middle seat. A smart person would have tried to sleep, but I was way too excited….and squished to get any rest.
3 hour layover in ATL… all the sudden airport chairs and tables make excellent beds… sort of.
ATL -> BON – Mike is in the aisle seat and I'm in the middle starring down the passengers boarding, praying that they have any seat BUT the open window seat next to me. I like to sit in chairs in ANY way but the proper way. Crossed legged, one knee up, both knees up, and Mike's personal favorite, my legs stretched across his lap… and by "favorite" I mean not. 😀 And as luck would have it, SCORE!!!! FREE WINDOW SEAT. I had a most comfortable 4 hour flight to paradise. 😀 And I loved waking up to this: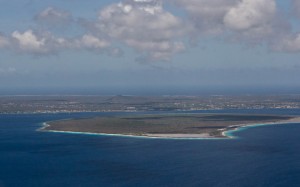 We stayed at the Divi Flamingo. a beautiful green and lush dive resort. All the bars and restaurants were on the water and our room had an awesome view.
Their dive setup was one of the best I've seen so far. Dive shop with rentals if you needed it right on the water. A covered area with table and benches for dive briefings. A wall with the days boat schedule, and if you wanted to go on that boat you simply write your dive # they assign you at the beginning of the week in an available spot on the board. Then magically you are on the manifest for that boat! As you walk down the dock you'll notice the wooden lockers. Your dive # will match one of those lockers and you now have a secure place to store your dive gear for the week. No stinky, drippy mess in your room! They also has a series of rinse buckets, all labeled accordingly with "Cameras", "Regulators", etc. These buckets are cleaned out and filled for us daily. And of course full tanks on the dock. So at any point in time during your stay you could dive 24/7! Just head to the dock, grab a tank, gear up and giant stride right off the dock to their beautiful Calabas Reef directly in front of the resort. Ridiculously convenient. And the staff was friendly and helpful. Poppy was so sweet and Algeen impressed me because he remember every persons name to their face all week and always said hello. I love the little things!
Day 1 in the water. No diving today. Just introductions at the resort, getting settled in and exploring. We of course went snorkeling in front of the resort:
And then the beach side bar was calling our name: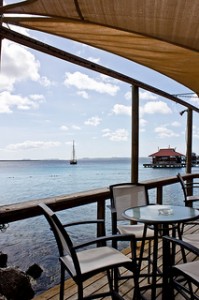 A great start to this vacation!