La Jolla Shores, La Jolla, California
Evening dive with Jeff! Waves were easy to get through, 1-2 footers, and it was a calm swim out. We dropped down and headed down the slope into the canyon. We would have probably gotten deeper except I had to stop for every single octopus I saw. Why? Because they are awesome. End of story. 😀 And they were EVERYWHERE. Viz was easily 20 feet at depth, maybe a little less in the shallows. No current, no surge, just an awesome night to be in the water. While we saw plenty of the usual suspects, the highlight of the night for me was the last octopus I found. We must have just missed it pouncing on its prey. While the correct interpretation of this photo is that it's digesting its meal, and I'm rudely interrupting it by shoving a camera in its face….. I prefer calling this photo…
THE OCTOPUS DUTCH OVEN!!!!!!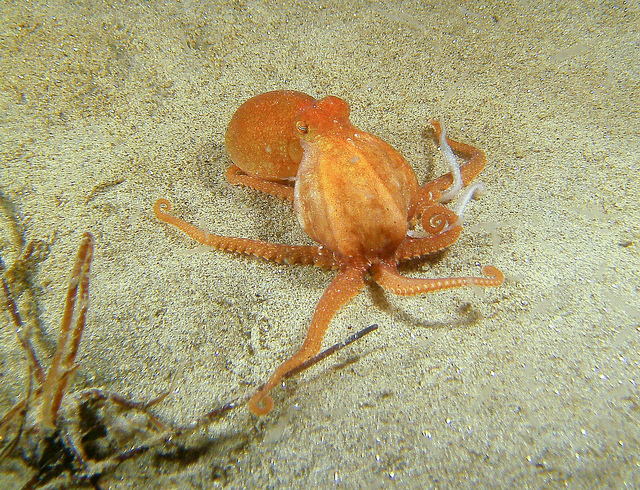 😀 All funnies aside, it was a great night to be in the water, get out and dive!
Eye Candy: Octopuses, horn sharks, coonstripe shrimp, crabs, sting rays, scorpion fish, guitar fish, staghorn sculpin, lizard fish, flat fish, roughback sculpin, brown shrimp, a janolus barbarensis, and tons of pipe fish!