La Jolla Shores, California
Relaxing evening dive with Kimo and Jeff…. until I apparently pissed off the Godfather of the Shores… The GIANT resident Sheepshead. We came across his lair and Jeff and I peered in to witness him and his usual massiveness. I tried to get a photo of him but his lackey, the rockfish swam spastically and stirred up the viz.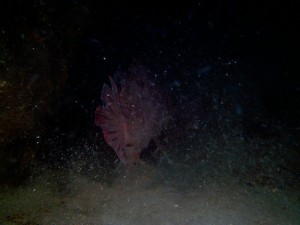 Jerk.
I moved to the side to see if I could wait for the dust to settle, when BAM, the lackey came up and slammed into my strobe…. Clumsiness? Or a warning? 😀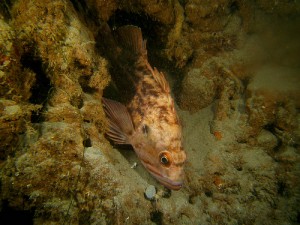 I think it was a warning… 😀
We continue along the wall and come across an octopus, my favorite! I follow him along but apparently he was in cahoots with a fringehead that came barreling out of his hole towards me stirring up viz again.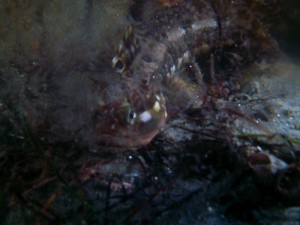 The octopus slurpped into the fringeheads home and the fringehead followed. I mean, really???! (But WOW! :D) I found another octopus hanging out on the wall and was able to fire off a few photos before the brigade of spiny lobsters came barreling through and stirred up viz AGAIN. A bunch of wiseguys if you ask me. I'm thinking the Godfather sent out a message to his minions! (But how cool to see at least 8 decent sized lobsters fully out and on the wall like that!!) Shortly after, we turned around and started the slow swim back in. Out of nowhere came an adult horn shark and he also slammed right into me!!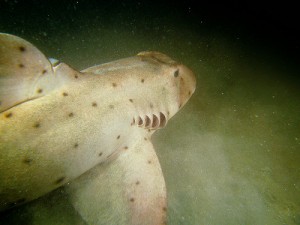 Clearly the muscle of the family.
I could barely get a photo it happened so fast! So moral of this dive report… no photos of the Godfather. He doesn't like it. 😀 (But now its a challenge….) Till next time Godfather of the Shores! Hopefully he doesn't put a hit out on me. :/
All joking aside, waves were 1-2 footers. easy topside conditions, but the viz was a hazy 10 feet at most. WITHOUT the mob family screwing up my shots. :/ No surge and a light current. Top of the water was about 70 degrees, at depth was about 54 degress on the wall. Viz has definitely declined from last Friday. But tons of life out which made it a great dive!