La Jolla Shores, California – The Marine Room Shallows
Dive #298
8am meetup with the SD Hammerheads! Lots of divers out this morning! And quite an eventful dive! Before we got into the water we broke into 3 groups. The Marine Room Shallows, the canyon at 60ft, and the deep dive past 100 ft. Topside conditions were perfect. Baby waves, no real current, and what looked like great viz! But before we all parted ways to our dive destinations, we made a quick drop in the shallows to "check on the viz". Not something we normally do, but it doesn't matter because Amanda bought it. 😉 John proposed to Amanda and she said yes! Congrats you two!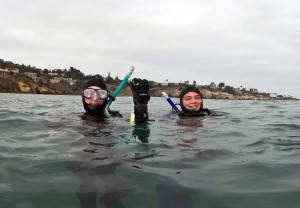 I had the pleasure of meeting Chris and James who are here visiting from New Hampshire! They are a father and son dynamic duo who got certified together last week in a mucky green lake. And for their first post certification dive, I, of course, drag them on a long surface swim to the Marine Room Shallows. 😀 14 year old James was a trooper, and was determined to "get to see stuff" despite the tiring long swim. Love that! We dropped down to beautiful viz. It was easily 30-40 feet. Schools of sargos & opaleyes, garibaldi, lots of kelp bass, bat ray, spiny lobsters, a sheepshead crab, a decent sized school of bait fish and …….. THE TURTLE!!!! I've heard about this supposed turtle for years now. I really thought it was just a myth. But Chris and James must have been good luck charms because we crossed paths with a large turtle who didn't mind us at all as he munched away at his breakfast. We were stoked!! It was an awesome dive!