La Jolla Cove, California
Met up with Tim and Ryan at the Cove for a little evening dive. Well due to some traffic, some topside filming shinanigans, etc, our evening dive turned into a full blown night dive. Topside was gorgeous. We kicked out right as the sun was dipping below the horizon and it was flat out.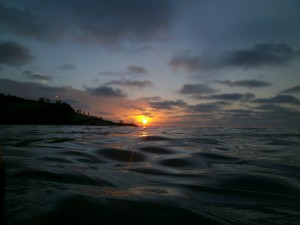 We dropped down and had some hazy viz but i could still see diver lights 15-20 feet away. We were the only divers in the water and dropped down to an easy 15 foot of viz. It was a bit hazy, but once again surge was super light. Kind of ideal when night diving in kelp. 😀 Temp was a cool 54 degrees and I was wishing I put on my lavacore socks. Been spoiled with the 60 degree diving! Peaceful dive, although a bit spooky at times. Kelp creates some weird shadows at night. 😀 Got visited by a large sea lion in the beginning of the dive. All I saw was grey at first and got overly excited it might be a seven gill…. yea…. thanks for the tease. 🙁 Highlight of the dive was a decent sized octopus Ryan found that was out and cruising around. Dive was about 46 min. Surfaced with 1900 psi, if I didn't have to be at work early the next morning I would have probably logged another hour and half dive. Loving these calm conditions, get out and dive!
Max Depth: 38 feet
Temp:  54 degrees
Viz – 15 feet
Current: light
Surge: light
Bottom Time: 46 min
Eye Candy: Sea lion, octopus, sea hares, spiny lobsters, sea snails, abalone, garbaldi, perch, sheepshead, and calico bass