La Jolla, California – La Jolla Shores Canyon Walls
Dive #292
Met up with an awesome bunch of divers to kick off the long holiday weekend with a dive! Conditions were flat, flat, FLAT! No current, no surge, just beautiful. Viz was about 15 feet, could be more, but I had my crappy dive light with me and it wasn't very bright. Highlight of the dive was watching two active baby octopus bouncing around at separate points in the dive. My favorite!! Other notable eye candy was a sarcastic fringehead out of its hole, a small halibut, tons of pipe fish, a juvenile horn shark, a decorator crab, and a squid….. I feel like we don't normally see squid this time of year?? Weirded me out a little bit. haha There was also an interesting crevice with a rock crab guarded by tons of little shrimp minions. 😀 They kept destroying the visibility in the crevice so you could barely see the crab. That's one way to tell the paparazzi to back off! 😀 Swim in was a piece of cake. So flat, that I kept kicking in waiting for even a tiny swell to indicate I was close to shore. As I was chit chatting with my dive buddies, my heels hit the bottom. oops. Kicked in to about knee deep water. 😀 Great dive, see you all soon!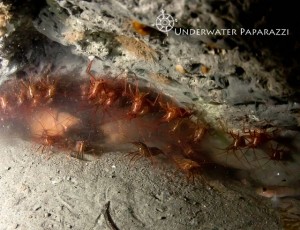 This crab has paparazzi protection! He must be a big deal!