Catalina Island, California – Eagle's Reef & Blue Cavern
Dive #287-288
A group of us headed up north for a day trip to Catalina to test out a boat for possible future charters. Day was overcast, but the surface was nice and glassy. A usual we were goofing around on the boat.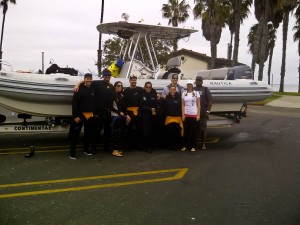 Eagle Reef – Dive #287
We pulled up to Eagle Reef so the guys could do some hunting. The visibility was not as clear as winter time, but beautiful all the same. We spent the first dive swimming in and out of kelp and exploring the rocky bottom of Eagle Reef.
Blue Cavern – Dive #288
This site has a nice and shallow area before the drop off. Mike wanted to take a group photo underwater for Darrell, our captain, to use for promo stuff…. Have you ever taken a group photo underwater? It's generally pure comedy. You drop down with the intent to group together, but someone always ends up backwards, upside down, or 15 feet away. And of course the distractions! I know when I descend I get excited and start looking around for what might swim up to me, forgetting the original mission at hand. 😀 (And if you've even been diving with me, you know I'm generally the one upside down too… :D) We finally pulled off a decent line up for the group photo, then…well just watch the video below 😉 Specifically around the 3:15 mark….
Like I said. BEST DIVE EVER!!!!!!!! 😀