La Jolla Cove, California
My cove curse has been broken!!! (But not my shark repellent curse, HA) Jovan convinced me to dive the cove this morning so I met up with him, Erin, Fred, Brenda, Tracey, and Jacob at 8 AM. The cove was already buzzing with people and divers and it was a nice flat lake out. We kicked out to buoy b and dropped hoping for a seven gill shark encounter. And as usual, I'm still shark repellent. But it was still a great dive! Viz ranged from 10-15 feet but the surge was pretty mild for once. Lots of the usual cove critters out but the highlight was coming face to face with a bat ray! I was worried my camera flash would scare it away so I took some video footage which is below. I've never seen a bat ray out in the open like that, just propped up hanging out. It was being so cool I thought I might be able to get a photo…. just like I thought, the flash scared him and all I got was a shot of it's wing. So enjoy the video instead. ha
The garibaldi were especially feisty but from what I understand from previous dive reports, they are protecting their nests? Regardless I did come across one particular garibaldi that was quite the ham for the camera….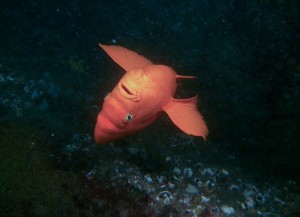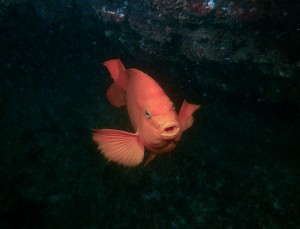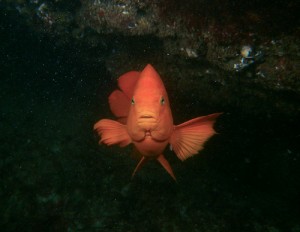 All joking aside, it was a great dive. The best cove dive I've had in awhile. Entry and exit was nice and easy even though I might have lost my footing once in the quicksand on the exit and had to float back out a few feet and try again… go ahead and laugh, I know you all have done that at least once or twice too. 😀 Heard the conditions are supposed to be pretty nice the next few days so get out and dive!
Max Depth: 34 feet
Temp:  62 degrees
Viz – 10-15 feet
Current: none
Surge: mid
Bottom Time:  73 min
Eye Candy: calico bass, kelp fish, senorita fish, sheepsheads, painted greenling, sheeps crab, lobsters, garibaldis, kellets whelk, and a bat ray!