La Jolla Shores, California – Crap Patch
#263
7am on a Sunday… If Jovan hadn't posted about 30 ft viz the day before I may have slept in since their was anticipation of rain. 😀 But my F.O.M.O. got the best of me. I knew the Bottom Bunch was meeting up and I had a willing "crack of dawn" dive buddy, Jeremy. No excuses now. So we joined Herb, Jovan and Charles and boy am I glad we did! First off, this is what I saw when I walked over to the shore to check out conditions: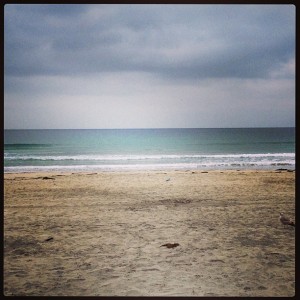 Um, yes please! Then we headed down into the crap patch and I had a field day! Spring has sprung and all the teeny tiny, beneath the surface residents were out and about. I love slowing cruising around the grass watching for what might possibly pop out in front of me or what might turn up as a piece of kelp turns over in the light surge. Baby octopus. hermissendas, dirona pictas, and other nudis, baby cabezones, baby sculpin, all sorts of flat fish, baby sarcastic fringeheads (TONS of them) and a few others!  One of my favorites was a little sarcastic fringehead that jumped up and posed on a nice white contrasting white shell. 😀 Love it when that happens.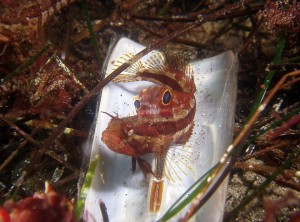 We had a sea lion buzzing us too. Entertaining to watch him fly around Herb's head unnoticed, as Herb remained concentrated on his latest photo subject. 😀  Viz was about 10-15 feet with a light  surge. Totally worth waking up early for! And thanks Herb G. for the ID's I was stuck on!! 😀