La Jolla Shores, California – Canyon Wall… ish
#262
First Friday of the month and its that time again to meetup with the SD Hammerheads! It was a beautiful evening to dive. We had a quick preview report from a few divers who had just come out of the water. Viz was good and the water was warming up… I guess I'm officially a wuss because I only agree with the good viz part. My computer said 53 degrees at depth. I have NO IDEA how one of the divers was able to wear a 3/2…. 😀 Still ever so grateful for the drysuit purchase this year!! As we shuffled into the sunset, Judy took this awesome photo of us. I love it!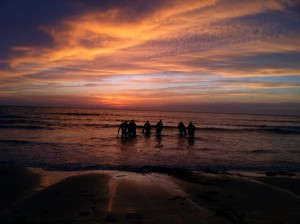 As you can see. the topside conditions were pretty nice. 😀 There is still a current though. We ended up on the slope past the wall, oops. After a little detour, we made our way back. I kept finding tons of tiny octopus! I love seeing them bouncing around in the grass! Also a few baby horn sharks and sarcastic fringeheads. The usual suspects, just smaller. It is spring after all. 😀 Good dive with great people! Awesome way to kick off the weekend!