La Jolla, California – La Jolla Cove
Dive #256
I have been shark repellent for quite some time now. It has been almost 3 years exactly (plus 6 days) since I've seen a sevengill, and the one time I did see one was at Wind and Sea. But I had no idea what it was at the time…. I just knew it was a SHARK. I remember turning around, and my heart just about stopped as I was almost face to face with that shark cruising by. I snapped out of it in time to capture a photo as it swam away.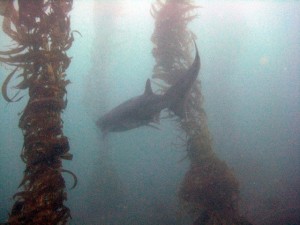 April 17, 2010 – Wind and Sea
At this point I swam over to by buddy, punched him in the arm and showed him my camera with the shark photo. He was calm and asked if I was ok, and we continued on. Being that he didn't go into crazy "OMG A SHARK!!!" panic mode, I calmed down and finished the dive. It wasn't till we were on shore when he told me what it was.
Ever since then I have been dying to see this creature again. Dive after dive at the cove searching for them. Getting so frustrated of the repeated posts and footage of just about everyone seeing them except me. It had become a known joke among my dive buddies to NOT dive with me at the Cove because I was shark repellent. Even my own regular dive buddies had seen the sharks….on dives I was not on….
After THREE years of searching, I had the dive that trumped ALL my San Diego dives… It was a shark trifecta! Leopards, Soupfins, and Sevengills! Upon descending we almost immediately came across a leopard shark swimming through. A few minutes later… my first sevengill encounter in 3 years!! Yes there was a happy dance. Mike captured it on his GoPro. Figures my dive dorkiness always gets recorded by somebody. 😀 Note to self, I need to work on some smoother underwater dance moves… See below:
I was stoked. I could have ended the dive there and it would have been awesome. But they kept coming, one after another, a few minutes apart. Gracefully gliding through the water. Some curious about these bubble making, bright lights in their home, others that wanted nothing to do with us. We also crossed paths with 2 soupfin sharks on separate occasions, who of course immediately darted away. But we easily had 20-30+ shark encounters on an hour and 40 min dive. Pure bliss. One point a few of us got separated, (it was shark ADD). 😀 So true to safe diving, we met on the surface to regroup. As we dropped back down again, I looked down and saw this on my descent path: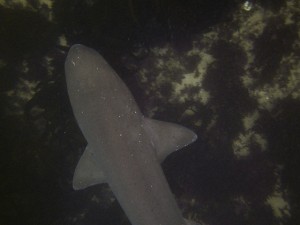 Shark riding is frowned upon right? Kidding, but it did make me giggle to think about it. 😀 It was an epic dive. And so rewarding after 3 years of searching and finding nothing. I'm truly grateful for this mornings adventure and looking forward to hopefully swimming with these beautiful creatures again… Preferably sometime before the next 3 year mark…. 😀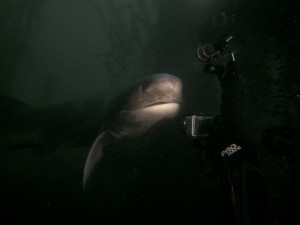 This shark was a camera hog and clearly had to show Mike which side was his "good side" . Below is the GoPro clip Mike shot when I took that photo:
Thanks to Jeff to capturing this photo of me next to the sevengill. I feel like I need to frame it. 😀