La Jolla Shores, California
Dive #251
I kept hearing that there was bad vis from the day before. So much so, that I was tempted to call off the Thursday evening dive Kimo called me for. But the La Jolla Shores web cam was taunting me with small waves and aqua water in the shallows. Such a tease!! And I desperately suffer from F.O.M.O. (Fear Of Missing Out), especially when it comes to diving… Here is a photo of LJS top side when I arrived: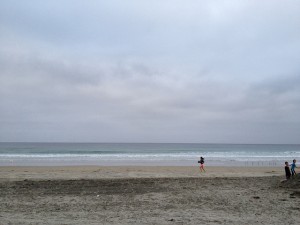 Yes conditions just look terrible! hahaha
Kimo and I headed into the surf around 7:15. pm. And as usual, the surf picked up for the brief moments we were wading out. I like to say to ocean is "waving" hello to us, even though we got a few wave facials too. Waves were 2-3 feet with the occasional larger stealth set. We dropped right before the wall and were treated to easily 20 ft viz if not more in patches. Then we noticed the current…. We were CRUISING along the wall. No kicking necessary. Nothing crazy like the  planned drift dive I did  in Cozumel where the wicked witch of the west theme song was playing in the back of my head. We flew so fast on that dive! Even though it was fun to cruise like that, we were smart and turned the dive around a lot sooner than normal to fight the current back to shore. Shallows were super surgey to the point that my stomach made me surface swim the rest of the way in. 🙁 I can probably count on one hand the amount of times I've experienced a current that strong in La Jolla. Even though it was a beautiful dive, just a subtle reminder to be aware of your surroundings, conditions, and dive safe. 🙂
Oh and the usual suspects were out. Sarcastic fringeheads especially. I had one that flew out of its hole and sucker punched me in the stomach. Jerk. He's lucky his cartoony face makes me laugh. 😉
He looks like bully, doesn't he?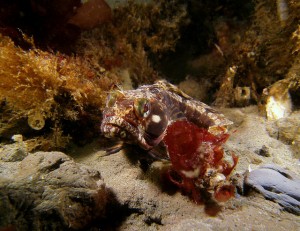 This dude was NOT shy. After I got sucker punched, he hung around and had dinner in front of me. Total camera hog. I was ok with it. 😀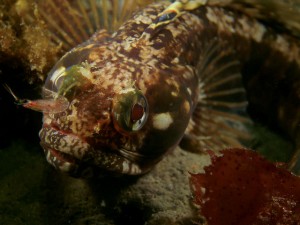 Look at him ready to pounce on that krill!! Show off. Such concentration. haha 😀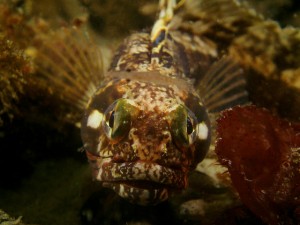 "WHATCHA LOOKIN AT?!!!"
(See? BIG BULLY!!!!!)
Also saw a decent sized sculpin with funny fat lips, lots of gobys, juvenile rock fish, horn sharks, lobsters, etc. And one tiny octopus that slurrped itself into a hole before I could get a good photo. Oh and I confused Kimo's underwater communication. He was signaling "strong current" apparently, and I took that at sea lions were buzzing us and started looking around excitedly for possible video photo bombs…. um yea…. 😀 Luckily, I had already picked up on the current issue. 😀
Awesome Thursday evening with a great dive and a decent work out! 😀 Ran into a few of the regular weekday crew I see on Vallecitos street. Hi Tom and Dave! 😀 Looking forward to a two tank dive on the Marissa on Saturday to the Point Loma Kelp!