La Jolla Shores, California
Headed out into the flat ocean with the Hammerhead meetup group Friday night. Ankle slappers on the way in, no current, no clouds and the stars were out. Just awesome. Kimo's drop point was perfect, a slow drop right on the wall. 😀 Conditions below the surface were perfect too. Tonight I was playing with my iPhone 4s in my Watershot housing and light.
Highlight of the dive was an Octopus Disco:
And a Bell Jellyfish!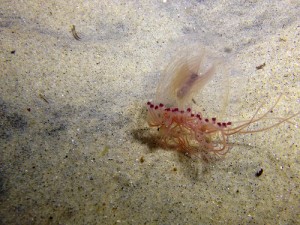 I learned from Herb that they are actually a Hydromedusae jelly since it belongs in the class Hydrozoa and not with true jellyfish. The scientific name being Scrippsia pacifica, Family Polyorchidae…. And while I still practice on how to even pronounce that, I'll stick to the common name Bell Jellyfish. 😀
(all photos and video were shot with an iPhone 4s in a Watershot housing and Watershot 1800 lumen video light)